This is an amplifier circuit with gain music output power up to 7W. Use IC TDA2003 as main component, this circuit is small but powerful multi purpose amplifier.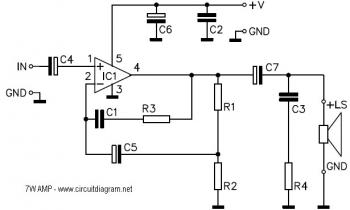 IC TDA2003 provides a high output current capability (up to 3.5A) very low harmonic and cross-over
distortion.

Completely safe operation is guaranteed due to protection against DC and AC short circuit between all pins and ground, thermal over-range, load dump voltage surge up to 40V and fortuitous open ground.
Components List:
R1     : 470
R2     : 4.7
R3     : 100
R4     : 1
C1     : 8n2 (822)
C2,C3  : 100nF (104;0.1μ;.1μ)
C4     : 10μF/25V
C5     : 470μF/25V
C6, C7 : 1000μF/25V
IC     : TDA2003
Amplifier Specifications:
Power output: 7W / 4ohm
RMS output: 3.5W / 4ohm or 2W / 8ohm
Total harmonic distortion: 0.05% (1W / 1kHz)
Frequency response: 20Hz to 20kHz (-3dB)
Signal/noise ratio: 86dB (A weighted)
Input sensitivity: 40mV / 150Kohm
Overload and short-circuit protected
Supply voltage: 15V DC (8 to 18V DC possible) / 0.5A
Download the detail circuit, schematic diagram and component part of this "7 Watt Audio Amplifier with IC TDA2003" in PDF version:

Download TDA2003 Datasheet Document:

The kit version of 7 Watt audio amplifier with IC TDA2003:
Incoming Search to This Post:
7 Watt Audio Amplifier with IC TDA2003
was last modified:
September 8th, 2014
by
Scheme related to 7 Watt Audio Amplifier with IC TDA2003: